Welcome to my portfolio
Game Development and Audio
I am available for contract work. Feel free to contact me if you need help for your next project. Car-racing game, first person shooter or puzzle game? Special non-linear music needs? I have strong programming skills (C++, C# and more), I can help you with the concept for your project, create prototypes and implement them.
Hear more
Music Editor on Harry Potter and the Deathly Hallows Part I

For the first time in the Harry Potter series, the EA audio team set up the combat music to smoothly increase in drama as the combat intensifies. Composer James Hannigan did an awesome job creating beautiful and effective musical content. I was the lead music editor on this project and in charge of coming up with the concept and make it work.

View Portfolio

2011. My second album. Zwei.

I proudly present my second album - "Zwei". A collection of songs that cover 5 years of my life - love, life, doubt, anger, separation and multiplication. Rather than just telling the flow of events they shrinkwrap my inner states throughout this time - an emotional diary, a picture book of my intrinsics. Have a listen to the tracks below as a taster:

Hear more
About
... a short story
Music, Games and Technology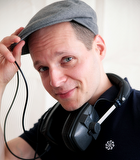 I was there - right from the start. Since early childhood I felt the irresistible force of computers, music and games. I used one of the first MIDI sequencers on the Commodore 64 - we're talking 1986(!), upgraded later to Cubase on Atari ST ("Cubeat" at that time) and then off to the world of PCs and beyond.
It took me a further two decades, a computer science degree, a higher diploma in music production to add all the bits together and follow my calling.
The Industry
In 2004 I took my first step into the games industry as a programmer on Max Payne at Rockstar Vienna. This huzzle and buzzle of highly talented creative individuals working towards a common goal got me hooked instantly.
In 2005, I decided to expand my creative horizon. I broke camp in Vienna, moved to Guildford near London to study Music Production at the ACM and see where all this will lead me to.
Like a wise owl swooping over the alps, Zsolt soars over the world of audio. As well as being able to lay down a fine tune, Zsolt is blessed with incredible technical skills. Equally capable of making a nest with the engineering end of audio or cuddling up to the creatives, you can but look and marvel at this finely balanced creature.
I started as an audio coder for Electronic Arts in and stayed with them for a further 5 years, taking on various roles as needed by the project - audio programmer, technical sound designer, composer or music editor.
I am back in Vienna now - for good - and "Electronic Arts" is a cosy memory from the past. I have the greatest respect for all the insanely talented people I met and I am grateful for all the valueable lessons I learnt. I have learnt from people living and breathing games development. I was part of teams utilizing all their skills and latest in technology, sacrifizing weekends to achieve the best possible production quality.
Black - nominated for Best Audio at 2006 BAFTA Video Games Awards - wins Best Art & Sound at the 2006 Develop Industry Excellence Awards
Burnout Paradise - won several awards in 2008 - 2008's Most Decorated Driving Game
Harry Potter and the Half-Blood Prince - BAFTA-nomination for composer James Hannigan
Awards
Games
Audio awards and nominations won by our games:
Burnout Paradise (Criterion audio team)
2006 Develop Industry Excellence Awards Finalist "Burnout Paradise": Audio Accomplishment
Black (Criterion audio team)
2007 AIAS Finalist : Achievement in Original Music Composition
2006 IGN XBox & PS2 Best Use of Sound, IGN Overall Best Use of Sound, Develop Industry Excellence Awards Best Art & Sound & BAFTA Nomination Best Audio
2005 IGN Best Audio at E3
Harry Potter and the Half-Blood Prince (EA BrightLight audio team)
2010 BAFTA Nomination
2010 IFMCA-Award: "Best Original Score for a video game or interactive media"
Contact
Get in touch
Drop me a line
Contact info
Magdalenenstrasse 23/2
1060 Vienna
Austria, Europe

Phone: +43 664 480 5660
E-mail:

Website: www.zmarx.com

Locate me easily
I live and work in the heart of Vienna, find me here.